About Worthy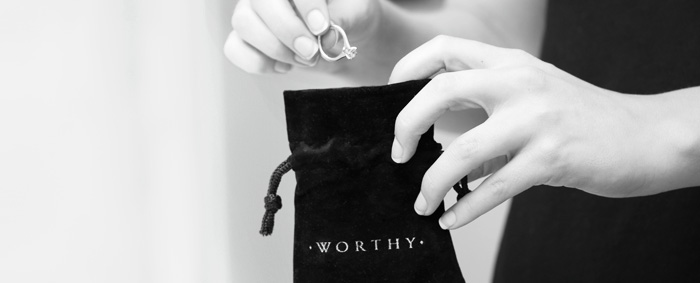 Get The Most For Your Jewelry - Fast
Worthy is dedicated to providing sellers and buyers with that ultimate win-win. Everyday we bring together buyers and sellers with our luxury auction marketplace. Worthy is led by the very best in the luxury goods market and we work together to bring you the fairest market value for your valuable items while providing stellar service.
" All we want from you is to sit back, relax,
and watch the offers roll in. "
Why Worthy.com?
We believe that you should get the most for your valuables in as little time as possible, with as little effort as possible. Whether you need financing to run your small business, to plan for the future, or to go on a vacation, we are here for you. In the process, we uphold these values:
Transparency

We provide our sellers and buyers with full information every step of the way. Our entire process from initial market value estimate to the final bid is conducted with honesty and transparency, providing detailed updates to both sides.

Integrity

We work with only professional buyers who can place bids based on experience and knowledge of your item and the greater market. The authenticity of items is of equal importance to us. Every item goes through a thorough physical evaluation and is presented with a detailed selling description reflecting our experts' results.

Privacy

When you sell an item with us, we do not ask any unnecessary personal information and do not share your information with any third party. Your privacy and trust is very important to us. View our full policy here.

Convenience

We want you to get the most for your valuables quickly and with ease. With our unique online auction platform, we bring the market right to your doorstep.

Stellar
Service

Every interaction you have with our dedicated account managers should be helpful, informative, and personal. We are a company full of people who understand your needs on every level and commit themselves to meet them.

High Value Deals

With every deal, our goal is to deliver the bottom line you are looking for. We get you the highest market value for your valuable items, guaranteed. If you are not satisfied that the highest bid is enough, we will send your item right back to you.
A Worthy Cause:


Jewelers for Children was founded in 1999 by the U.S. jewelry industry with the mission of helping children that have been affected by illness, abuse, or neglect. Since its inception, JFC has donated more than $45 million through their charity partners including St. Jude Children's Research Hospital®, and the Make-A-Wish® Foundation.
Worthy is a proud donor of Jewelers for Children and encourage our partners to join the cause as well.

Worthy is looking to help women returning to school to pursue their passions with the Worthy Women's Professional Studies Scholarship. We are inviting all women over the age of 30 currently enrolled in continuing education professional programs to submit a research paper for a chance to win one of our $2500, $1,500 and $1,000 scholarship offerings.
Learn more